KnowledgeWorx
KnowledgeWorx 4.1.0
Many organizations utilize surveys, questionnaires, checklists and templates to share knowledge and enhance productivity. This content is often paper-based, prone to transcription errors and difficult to track. KnowledgeWorx is designed for today's mobile workforce by allowing you to share your intellectual capital by using standard handheld devices and web browsers.
KnowledgeWorx uses a simple rule-based approach that requires no programming. Using KnowledgeWorx, you and your staff can create content on your Windows-compatible PC, and then use it on PDAs (PalmOS and PocketPC/Windows Mobile) and standard web browsers.
HandiWorx
HandiWorx 4.1.0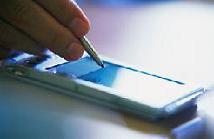 HandiWorx empowers users to reuse the content created with KnowledgeWorx. HandiWorx is available for PalmOS and PocketPC/Windows Mobile devices. HandiWorx WebExpress supports most modern web browswers including Internet Explorer, Firefox, and Safari.
Buy Now Try HandiWorx PalmOS Try HandiWorx PocketPC Explore