KnowledgeWorx
KnowledgeWorx 4.1.0
Many organizations utilize surveys, questionnaires, checklists and templates to share knowledge and enhance productivity. This content is often paper-based, prone to transcription errors and difficult to track. KnowledgeWorx is designed for today's mobile workforce by allowing you to share your intellectual capital by using standard handheld devices and web browsers.

KnowledgeWorx uses a simple rule-based approach that requires no programming. Using KnowledgeWorx, you and your staff can create content on your Windows-compatible PC, and then use it on PDAs (PalmOS and PocketPC/Windows Mobile) and standard web browsers. Use KnowledgeWorx to create:
Surveys and Questionnaires
Data Collection Kits
Audits
Quizzes and Tests
Training Packages
Rule Guides
...And More!
What is it?
KnowledgeWorx consists of 3 parts: Construx for creating content, HandiWorx for using content (we call content a "Flexpak" when it is ready for a device or web browser), and DataWorx for analyzing data collected by your mobile workers.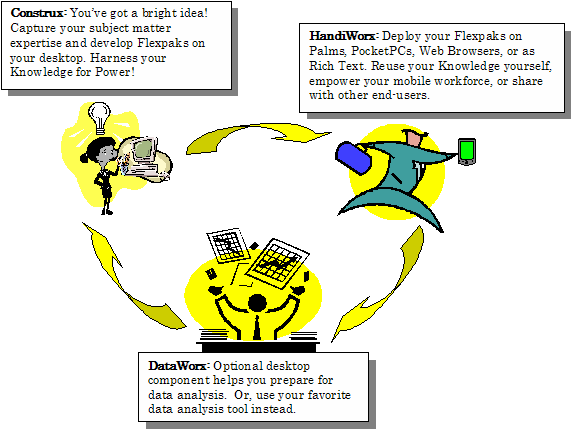 Simple, Flexible, and Powerful
Create your content once, then deploy to any of the supported platforms that HandiWorx runs on: PalmOS, PocketPC, or the Web. Additionally, if you want to go "old school", you can even generate traditional paper-based surveys from the exact same content source!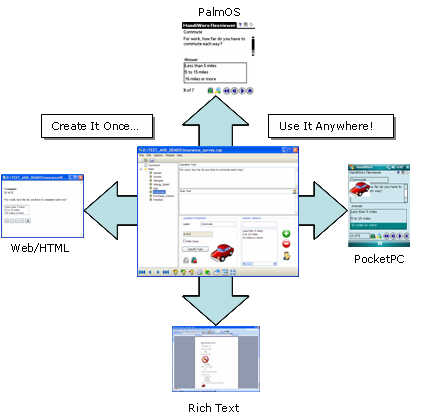 Knowledge Is Power. Put it to Work For You.
Need specific behavior based on user input? No problem. KnowledgeWorx uses a simple "no programming required" rule-based approach to specify responses and actions. Branching, displaying information, and capturing data are all within your reach without learning a complex computer language. The KnowledgeWorx approach saves you training time and resources. In fact, you can build a simple data collection kit and have it running on your PDA or web browser in a matter of minutes. Use KnowledgeWorx and begin reaching your goals immediately.
Get Started Now
Each KnowledgeWorx package includes everything you need to get started: Construx, 1 license of HandiWorx (for one PalmOS device or one PocketPC/Windows Mobile device), unlimited HandiWorx WebExpress licenses, DataWorx plus a wealth of samples and documentation. More licenses of HandiWorx may be purchased separately if your team has multiple handheld devices.
Buy Now Try Watch a Demonstration Visit the Learning Center
Awards
X-Act! Software is the winner of multiple MobileVillage BrightStar Awards for KnowledgeWorx.