Learning Center Overview
Welcome to the X-Act! Software Learning Center. From this page, you can access on-line product demonstrations and online presentations discussing our products and potential ROI (Return on Investment) benefits. We hope you find the Learning Center helpful.

On-line Demonstrations
Select any of the demonstrations below with your mouse. The demonstrations require the Adobe Flash Player plug-in (If you need the player, you can download it for free from Adobe.com)
Presentations
Select any of the presentations below. The presentation will open in a new window in your web browser.
KnowledgeWorx Overview
KnowledgeWorx Return On Investment (ROI)

Samples
We include a number of samples with KnowledgeWorx that you can explore and learn from. The samples are located in the KnowledgeWorx\Samples directory. You can also download them from here: Download Samples Now
Online Education
Tutorials
Product Matrix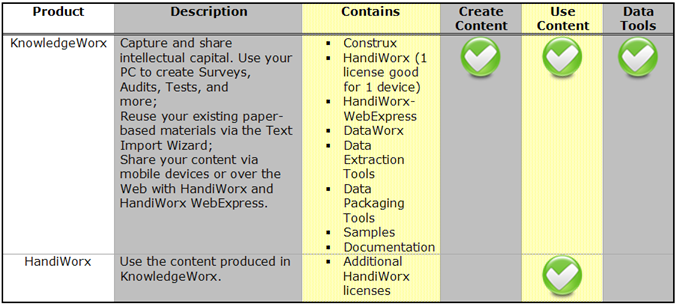 Notes
Each KnowledgeWorx package includes 1 license of HandiWorx. We include both the PalmOS and PocketPC/Windows versions of HandiWorx in the KnowledgeWorx distribution, so you do not have to worry about selecting the correct package. If your team has more than one device, you can buy additional HandiWorx licenses for each device you intend to use.
Additional HandiWorx licenses are distributed by device type, so you will need to purchase either HandiWorx for PalmOS or HandiWorx for PocketPC/Windows Mobile, depending on the type of devices you are using.
HandiWorx WebExpress is only included in the KnowledgeWorx package and has unlimited licensing; deploy it to as many web browsers as you wish.
System Requirements
KnowledgeWorx:
Windows 2000, XP, Vista or later;
Handheld device requirements:
PalmOS 3.0 or later
or
PocketPC/Windows Mobile (version 2002 or later)

HandiWorx:
PalmOS 3.0 or later
or
PocketPC/Windows Mobile (version 2002 or later)

HandiWorx WebExpress (not purchased separately; it comes with KnowledgeWorx):
Javascript-enabled web browser (tested on Safari, Internet Explorer and Firefox)

DataWorx (optional component, not required for basic functionality):
MSExcel 2000 or greater (DataWorx for Excel)
or
OpenOffice Calc 2.01 - or equivalent, like IBM Lotus Symphony Sheets (DataWorx for OpenOffice)